Get A Free Car Shipping Quote In Seconds | Save Up To 30%
How To Ship A Motorcycle To Another State | Across The Country
How to ship a motorcycle? We have made sure everyone knows the answer to that question and more.  We can help with the process because we work with a number of the highest-quality, highest-ranked motorcycle shippers in the nation. We are a "low pressure sales" type of car shipping company.  That means we want to give our customer all the information upfront and the customer choose choose which company is best for their particular needs.  Sometimes we will be the best option and other times we may not be. This information is meant to help you make a good, educated decision regardless what company you use to transport your motorcycle. For that reason, we will cover basic how-to steps first. Then we'll give you a quick idea of what sets us apart.
Best Motorcycle Shipping Prices
As you may imagine, motorcycle shipping companies will typically not charge you as much to transport a motorcycle as they will to ship a car or truck. Typically it's about a 20-25% reduction in price. In other words, if a company quotes $800 for a car shipment, they will quote $600-$650 for a bike. However, that is for an open motorcycle transport quote.  It is usually a good idea to have your motorcycle transported on an enclosed hauler (that's covered below).
Note that the amount to ship a bike between doors (door-to-door car shipping) will not necessarily be a flat cost. However, the size of the motorcycle will only slightly change the amount it costs to ship it. Also be aware that you can further reduce your rate by shipping two or more bikes for a volume discount.
Enclosed Motorcycle Shipping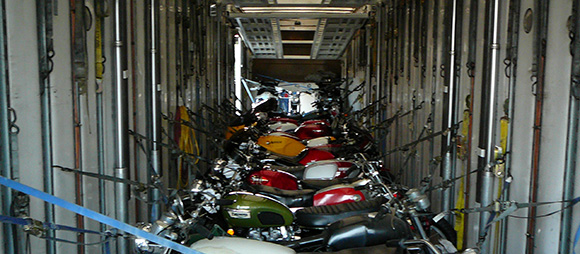 Bikes generally are transported covered; this is the case about 90% of the time. The reason motorcycles are typically shipped using enclosed car shipping is due to a number of factors:
The design of motorcycles makes enclosed shipping easier.
Enclosure avoids exposure to harsh weather and direct sunlight on the bike.
If open transport is used, the bike takes up a full side of the car hauler.
If open transport is used, nylon straps must be used to secure the vehicle to ensure a safe and durable shipment to United States and Canadian endpoints.
Possible paint damage to bikes from rubbing disallows covers for open car shipping.
Ship A Motorcycle With Car Shipping Carriers
Car Shipping Carriers is a broker. A great broker vets the companies it represents carefully. Here are a few quick reasons we think we are one of the best motorcycle shippers out there:
Car Shipping Reviews: We are top-rated on major review sites, such as our 5-star score on the independent rating site Transport Reviews, Google+, and Facebook.  We also have A+ Rated and Accredited with the Better Business Bureau.
Ratings of Our Network of Motorcycle Shippers: None of the companies in our network has less than a 98% rating on major shipping sites.
Communication: All of our specialists give out their cell phone numbers for immediate contact. That includes the owner, Nicholas Dutko.  We want our customers to be in contact with us when they need us.  Some companies have the regular 9 to 5 hours, but this isn't a 9 to 5 industry.  We want to make ourselves available for our customers when they need us most.
Convenience: All bikes are shipped directly between the addresses you select using door to door service.  This creates the best customer satisfaction score because it is the easiest way to pick up and deliver a motorcycle for a customer..
Financial Protection: Car Shipping Carriers partners are all 100% insured, licensed and bonded.  Every company we have in our network fully complies with the US DOT and FMCSA to ensure reliability and credibility.
Want to try us out? We value your time, so there is no waiting for a response from us. Plus, because we pre-vet, there's no dire need to cull through motorcycle shippers reviews. Just fill out the form at the top of this page, or call now for an instant quote.