Best Way To Ship A Car | Get A Free Car Shipping Quote In Seconds | Save Up To 30%
---
Best Way To Ship A Car From One State To Another
If you're worried about the process of transporting a vehicle over large distances, don't worry. We'll show you the best way to ship a car under a budget without sacrificing on security. This guide will also detail everything you need to know to make sure your vehicle is delivered with confidence and professionalism.
Hire A Car Shipping Services | Best Way To Ship A Car
The best, no-nonsense way of transporting a car from across the country is to hire a professional automobile shipping service. All the logistics and paperwork is handled under one roof and any issues involved with inexperience is avoided. Some companies will even offer premium services, such as enclosed car shipping options.
To minimize the costs associated with hiring a car shipping service, you'll need to do your research. Start by gathering quotes from all the top companies. Next, take a look at their ratings on the Better Business Bureau. After you've narrowed down your choices, start negotiating what you'll be paying for with each company.
Ask them to explain how they will be receiving and delivering your vehicle and all the fees involved. It's normal to have to pay more during the summer months than the winter. Other factors include the weight and size of the car, the route between states, and the current gas prices.
Remember. lock that quote in when you're ready with your deposit to avoid fluctuating costs.
Paying Someone to Drive the Car
It's going to cost thousands less to drive your car across the country, but at what cost? You could hire someone to drive your new car to you, but that will require dealing a more uncertain grounds. You can just find someone on Craigslist willing to do it.
Well, actually, you can. There's no guarantee that you'll find anyone in a reasonable amount of time, but you could place ads offering to pay someone's trip to your part of the country. The incentive for the other person is unique in that they get free transportation to their destination with some extra profit.
The added mileage added to the car could actually be a great way to properly stress test it before you get it.
The risk of possibly being exploited by unscrupulous individuals is still there, so you need to have a plan in place. First, you'll want to draw up a contract detailing all the information from each party. Obtain the driver's insurance information to cover accidents, theft, or vandalism.
If you want to be super thorough with this transaction, you can require the driver to install a dash cam for evidence. In case of emergency, agree on who pays for what to retrieve the vehicle and gets the driver to their destination.
If you can't find anyone in classified listings to handle the driving, you could hire a professional driver service. This is basically the next best thing to hiring a full auto hauling company. This service is the Uber of vehicle transport services.
They screen and hire drivers who are willing to drive large distances. Some drivers will actually transport cars with their own trucks, too. This all depends on the company and selection of services.
The benefits of having a driveaway service deliver your car include experienced drivers and liability insurance.
Using this service guarantees a reputable driver with a clean record. This includes both criminal and driving records. They set the bar higher for those who are more accident-prone and require collateral to weed out desperate drivers.
Driveaway providers also employ professional drivers at a premium. These drivers cost more, but you lower your risk of any accidents or delays in your delivery. These drivers know more about cars and take their jobs very seriously.
While these services are mainly used by clients transporting luxury cars, it's not a bad idea for anyone to spend more to secure their vehicle.
Last, but not least is the importance of having your car covered in the case of an accident. Each company will vary on what they offer for liability insurance, so you'll need to verify how much they cover. If you're buying a car through a dealership, you can guarantee the safety of your investment with a seven-day insurance policy.
You should always read liability cover terms and carefully review the agreement to see what may or may not be covered. Sometimes there may be gaps in coverage if dates change or coverage lapses. Get signed copies of everything regarding your delivery service.
Before the scheduled pick up, have a copy of the route sent to you. That way, you can follow the progress and get an idea as to how long it will take to arrive and how much your bill will come out to. Get periodic updates from the company to make sure the driver is staying on route.
If you don't like the idea of paying someone to drive your car over large distances, we understand. Even if someone is the safest driver you've ever met, it's pretty hard to trust them with your baby. Driving your car to your home can be a smart idea, depending on the distance.
You'll need to consider how much it's going to cost to get to where your car is, when you'll arrive, and if you'll need a hotel. Once you've got the car, you'll need to realistically estimate how much gas you'll need to drive back home. Unless you've already traveled this exact same route, there's no guarantee that your ride will be a straight shot with no bottlenecks.
Driving a new car for multiple days is a pretty risky move in of itself, too. It would really suck to discover mechanical problems while in the middle of a long journey like that. Emergency funds are a must, so even if you can't afford professional rates, you'll likely need to save just as much.
The best scenario is to have someone ride with you as a mini-vacation/road trip, have them tail you on the way back, and make a deal on gas. This is the cheapest way to guarantee delivery of your car, after gathering quotes for auto transport services.
Crucial Tips on the Best Way to Ship a Car
After you learn how to transport a car with auto transport services, there are some things you should do to prepare. Follow these tips to make sure the transport is as smooth and trouble-free as possible and get the cheapest way to ship your car:
Before the car is transported, it's important to have the vehicle clear from any items inside. These items could be dislodged and damaged during shipment. If you're buying from a third party, remind them to look under seats and inside the trunk for anything they wouldn't want to lose.
Have the former owner take pictures and document everything about the car before shipping. This will protect them and you from any damage incurred by the car moving process. If you hire a transporter service, they will do their own inspection and verify that the vehicle is the same as they received it.
As we mentioned briefly earlier, there is always the risk that the shipper's liability insurance may not cover everything. If you obtain gap insurance, you will be covered for any claims less than the high deductibles set by most providers. This will also cover you if your delivery experiences delays that force you out of coverage.
The cost of gap insurance is trivial and is highly recommended as the best way to ship a vehicle fully covered.
We're just going to be realistic here and tell you that you're most likely not going to get your vehicle delivered at a specific time. If you get on the day promised, it's a victory. These professional delivery services can only estimate on the time it will take for your car to be processed and shipped.
Driveaway services can be a bit more precise, especially if it's just one driver going across one state. When you start talking about thousands of miles, that's when traffic becomes a bigger factor. International deliveries also have the added bonus of being held up by customs.
Some things are completely out of the control of the delivery company. Global-imposed tariffs have certainly made things more difficult than they should. Just be ready to foot higher bills for getting your car overseas.
When hiring an auto shipping service, you will be presented with a choice on how you want your vehicle transported: covered or uncovered? Open car shipping is a lot cheaper than covered, but how important is that paint job?
For long trips on the road, there's always a higher risk of dirt and debris hitting your car. A simple car cover can protect from most forms of small, loose debris on the road. There's also an enclosed shipping method, as we mentioned previously.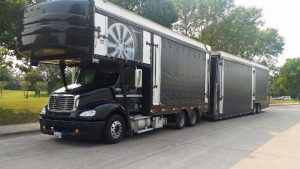 Enclosed vehicle shipping shields your vehicle from the elements, which would be necessary if you're moving a convertible or motorcycle. Expect to pay nearly two-thirds more for an enclosed shipping container than the cheapest covered options.
A good compromise for cars that aren't vulnerable to rain or snow is the ship your vehicle on the top row of the carrier. This keeps it out of the way of any debris being kicked up from the road.
Once the car gets to you, immediately inspect it yourself and compare it to the photos when you purchased it. Read the transporter's inspection notes and make sure that no discrepancies are present. Next, contact the sender to let them know if there were any problems.
It's good etiquette to tip your transporter, especially if they're just an amateur freelancer. Rate them and review them with details for the next person who needs to hire someone to ship their vehicle.
Finding the Best Shipping Companies
Being able to find your dream car online is made easier these days. Paying to have your car delivered out of state or country of origin is no longer a wealthy endeavor. You just have to figure out your budget and how bad you want that vehicle.
Nearly every delivery method carries some form of risk, besides the fully-enclosed shipping container. With that said, even hiring someone to drive it to your location isn't a huge leap of faith. The chances of them driving off with your car are pretty low, as long as you vet them and put the necessary protections in place.
Hiring a professional shipping company is the way to go, if you want insurance, of course.
Car Shipping Carriers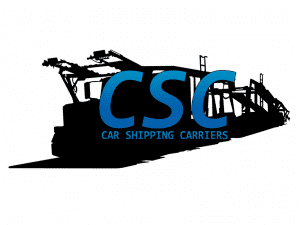 Begin your search for the best way to ship a car here. At Car Shipping Carriers, we take care of all the legwork involved in finding the right company to do business with. You can use our secure only quote service to get multiple quotes while saving you time on paperwork and back-and-forth communications.
You just tell them about your vehicle, its location, where you need it delivered, and when you need it. They will provide you with the best routes, shipping methods, and pricing options. We will guide you through the entire process with our experienced customer support team.
With over 10 years in the business of moving vehicles, we will get you moving in your new car in no time. Get your free auto transport quote today and save 30%. If you want to learn more about the auto transport industry please go to our car shipping resources page. We have every page we have published listed in categories to serve our customers.
Best Way To Ship A Car | Our Car Shipping Services Reviews
Direct Links To Each Reviews Page Listed Below
Facebook Reviews: 5 Star Rating
BBB: A+ Rated & Accredited Business
TrustPilot Reviews: 5 Star Rating